Ever wondered what Mundo would look like if he traded his 'medikul lisense' for a business degree? Or maybe you wish you could ditch Sona's acoustic strings for some synth beats? Then it sounds like you're in the market for a skin!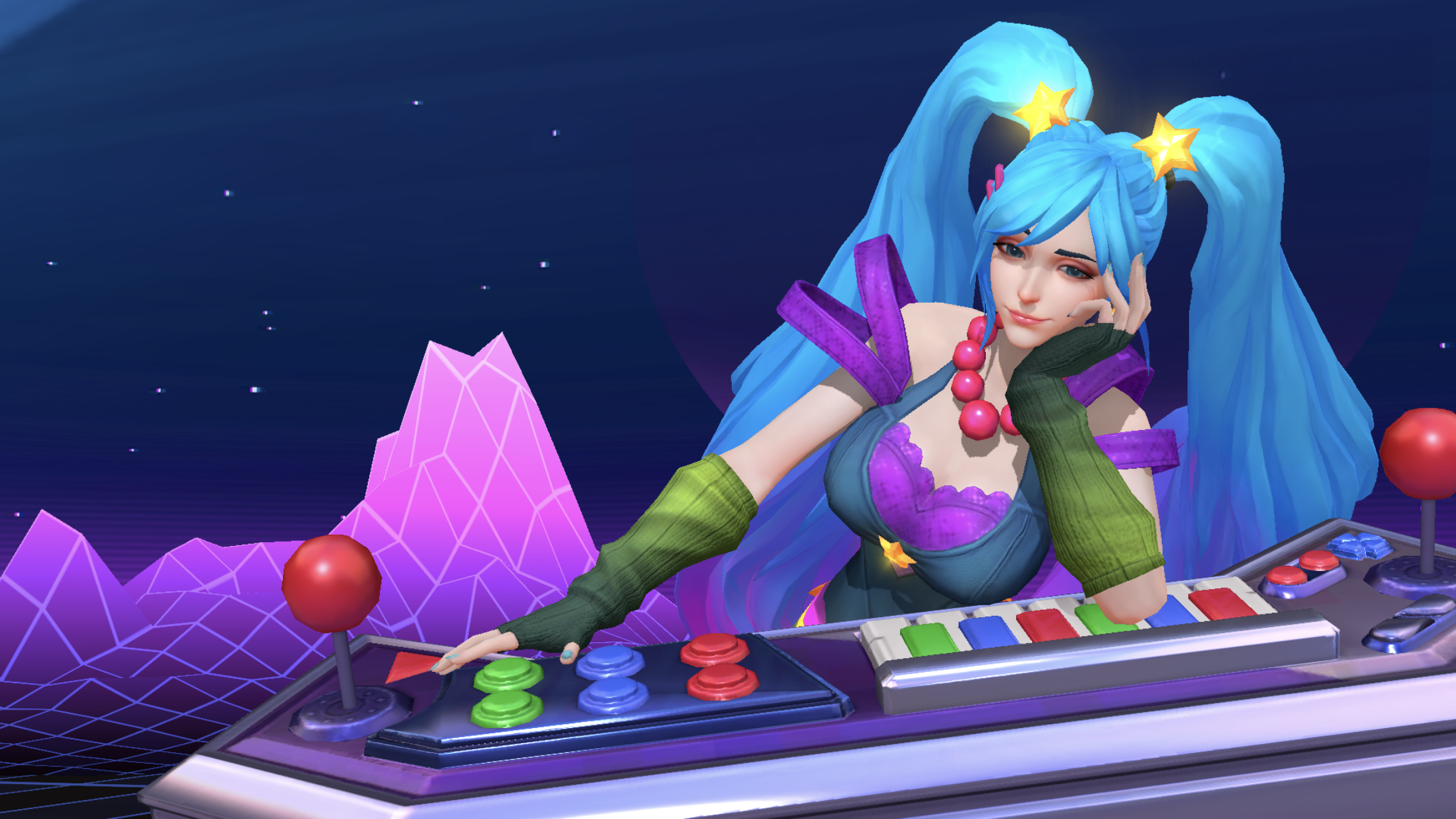 I gotta know more!
Don't show up without a glow up
Equipping a skin switches up a champ's look, but the changes don't stop there: some high-tier skins come with new ability animations, recalls, voice lines, and more!
Every champion in Wild Rift releases with at least one skin, and we're adding more all the time, so there's no shortage of ways to look good while you're kicking butt.
When you have a skin equipped, all other players in the game—allies and adversaries alike—get to bask in its glory. And while most skins are available all the time, a handful are available exclusively during a single event or season. Trust us, there's no bigger flex than scoring a rare multikill with an even rarer skin.
Skins come in three rarities: Legendary skins are marked with a red diamond, Epic skins have a green triangle, and other skins are unmarked. A skin's rarity determines its drop rate and Wild Core cost, and thus how cool you are for having it.
I'm sold! How do I get them?
Whether you're looking to earn your skins or buy them outright, there are plenty of ways to stock your wardrobe!
Chests
There are two types of skin chests
Random Skin Chests contain... well, random skins. You can get them as event rewards, or from the Poro Store when available. You can get Skin Selection Chests the same way, but unlike random chests, these give you more control over what comes out.
Most chests are tied to a specific event and contain one of a handful of event-specific skins. Other chests are more general, drawing from a set of skins that changes with every major release.
Wild Pass Rewards
Some Wild Passes culminate in an exclusive skin that you can't get anywhere else. Just remember: each Pass contains a mix of free and paid content, so you'll need a Premium Pass to have a chance to get everything—including the skin! You can check the contents of the current Wild Pass at any time from the main menu.
Ranked Rewards
Every season, players can unlock a special Glorious skin by earning Ranked Points on Wild Rift's Ranked Reward Track. Each season comes with its own skin, so be sure to jump to our Current Season article to see which skin is on the line right now.
Miss out on a Glorious skin for your favorite champ? Don't worry! Climbing ranks will also earn you special Ranked Coins you can redeem in our Ranked Store, which houses many of the Glorious skins from previous seasons!
Just note that these skins come ala cart. If you want to strut your stuff on Wild Rift, you'll have to grab the champion first!
Wild Cores
Of course, you can simply buy most skins with Wild Cores whenever you want! To browse all of the available skins, just hop into the Store by tapping the

icon, followed by the Skins tab.
Sounds like there are a lot of skins to choose from. Is there a way to see them all?
There sure is! To take a look at every skin for EVERY champion, you're gonna want to jump into the Collection menu. From here you can either use the Champions tab to look at one champ's skins at a time (more on that in a minute), or you can use the Skins tab to look at every single skin in alphabetical order.
To check which skins you have for a specific champion, select them from the Champions tab and take a look at the rotating menu in the bottom left. Any skins you own will be fully visible, while the ones you don't own will appear darkened and feature a lock icon. If you see one you just HAVE TO get your hands on, you can purchase it right then and there with Wild Cores.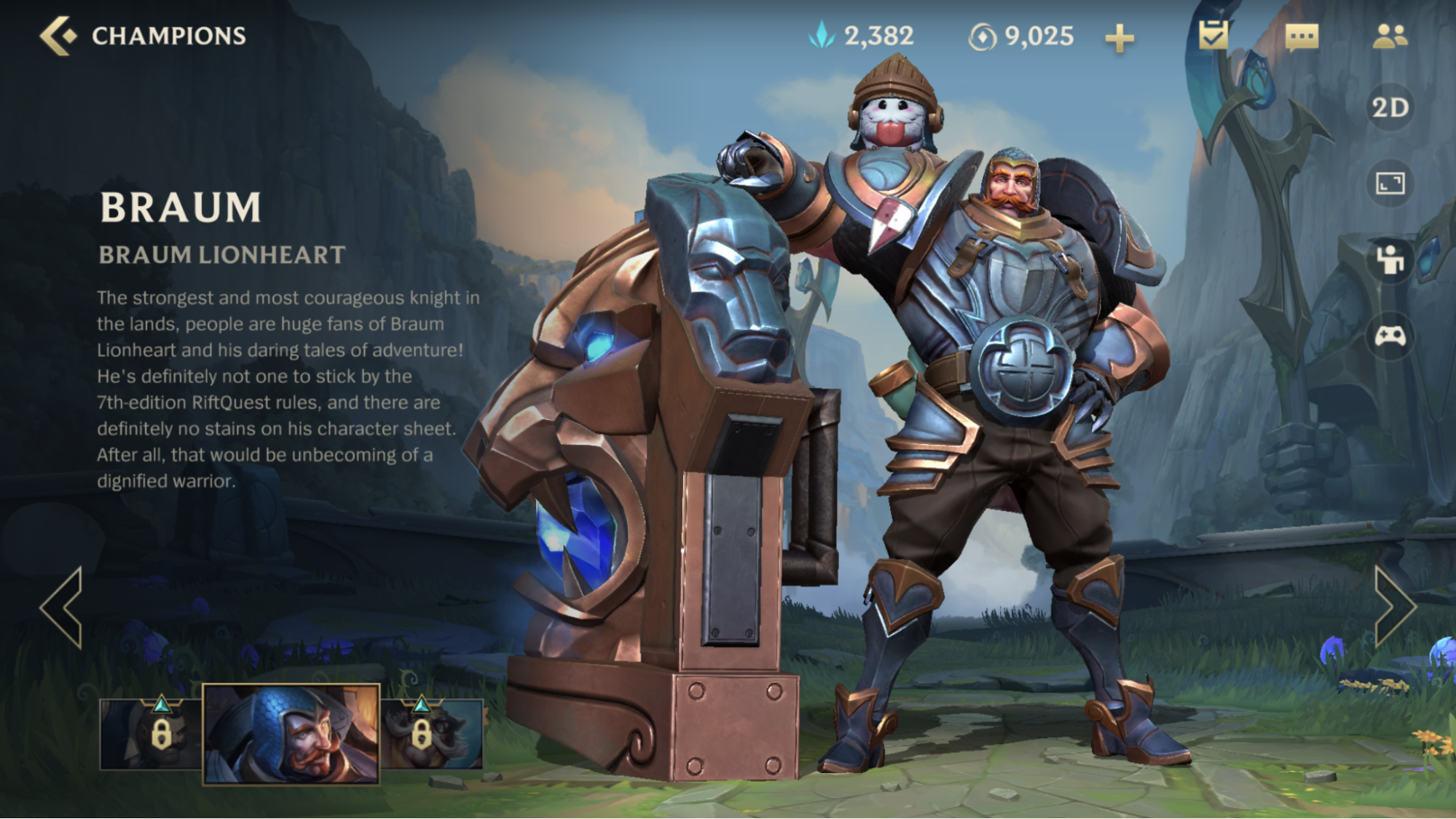 I have skins! Now, how do I equip them?
Now that you've done all the leg work, it's time to sit back and enjoy the game; just hop into matchmaking and you'll be able to select a skin while you wait for the action to get going. But be quick about it! You'll only have a few seconds to decide.
After the champ selection screen but before the match begins, you'll see a rotating menu under your chosen champion. Simply drag this to the left or right to choose which skin you want to bring into that game.
Forget to buy a dope new skin before hopping into matchmaking? No problem! You can tap the lock icon on an unowned skin to buy it right then and there.
FAQ
I bought a skin by accident! Can it be refunded?
That depends on a few factors, including whether or not you've used it. For more info, check out our refund policy.
I unlocked a skin, but I don't have that champion. Can I still use it?
Think of it this way: right now you have a colorful set of paints, you're just missing a canvas. But worry not—as soon as a champion joins your ranks, any skins you've unlocked will be there waiting.
What the heck are skin poses?
Poses are special cosmetics that add flair to your champ in the intro screen before a match and the wrap-up screen after it. Each available pose is tied to a specific champ, and some of them are only usable if the champ is wearing a specific skin. Want more info? Check out our handy guide!
Do the skins I've unlocked in League of Legends carry over to Wild Rift, or vice versa?
If you've played League PC, a lot of what's going on in Wild Rift probably feels familiar. But if you take a closer look, you'll find that everything—from matchmaking and mechanics to character models and animation—has been remade from the ground up. To that end, your account and inventory have gotten a fresh start to match. It also allows us to make Wild Rift its own game! And that starts with Wild Rift-exclusive skins, like Lunar Beast Miss Fortune and the Stargazer series.