Ever wish League of Legends: Wild Rift supported competition between groups of more than five? Or that your achievements in a match had repercussions after the end-of-game screen?
Well consider your wish granted with GUILDS!
Guild Features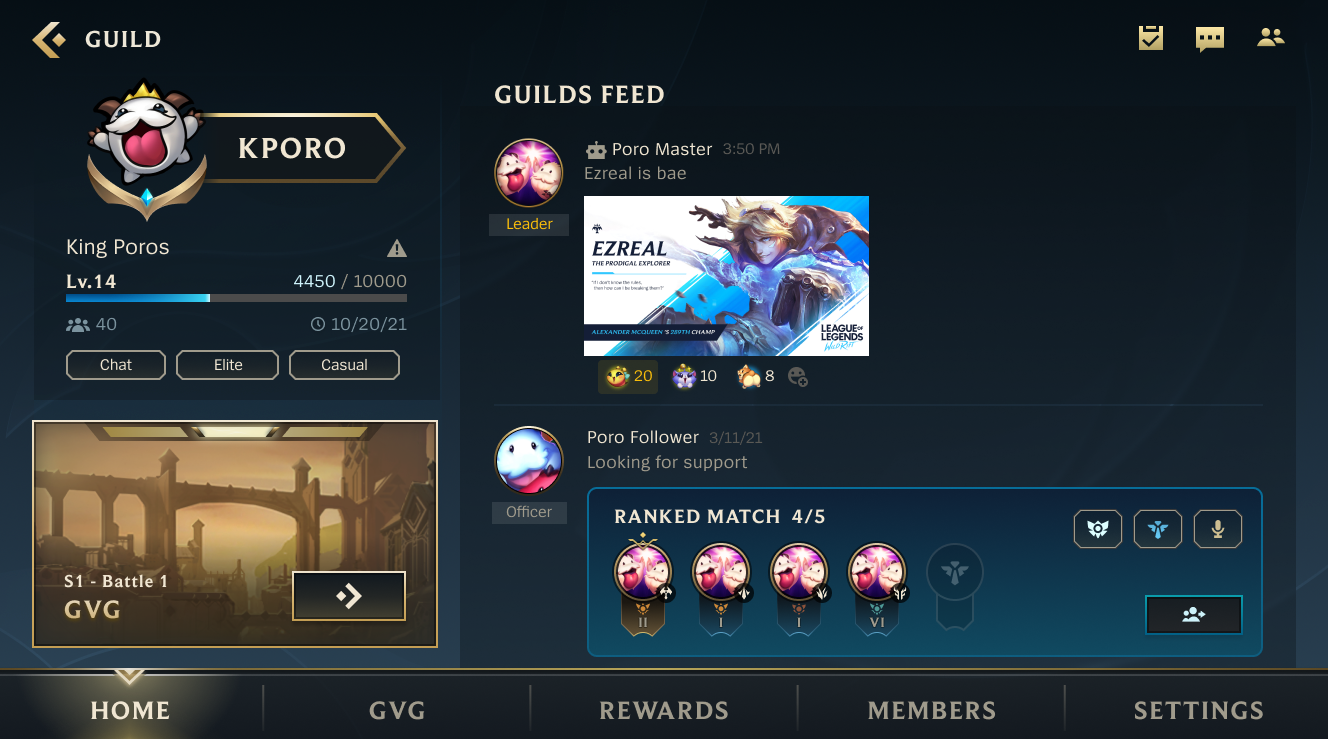 Each guild is more than just the sum of its players. They have fully customizable profiles, specialized social feeds, versatile management settings… But why settle for an overview when you can get the deets?!
Guild Name
The full, formal name of each guild. Just remember that multiple guilds can share the same name, so if you're looking for a specific guild, try telling them apart by their...
Guild Tag
TSM, T1, RNG, FNC—you only need a handful of letters to become one of the greats.
Much like the abbreviated pro team names listed above, tags let guilds capture their greatness in a 2–5 character moniker. But don't feel limited by your guild name, since the two aren't required to share any characters. Guild tags are also currently the only way to search for your desired guild, though you can use filters to narrow down the results.
Unique Guild Tags
No two guilds can share the same tag, so join/apply with confidence when you find the tag you were looking for!
Guild Icon
The de facto guild logo, guild icons appear next to the guild tag in public searches and on in-game guild plates. Guilds will unlock new icons to choose from as they grow and progress, and they can try a new look at any time, so don't judge a guild by its icon!
Description
The guild name, tag, and icon set the first impression, but the description is where guilds can really tell you what they're about. Be sure to read your potential guild's description to see if it's a good fit.
Privacy Level
The privacy level determines each guild's basic barrier to entry. Have they opened their doors to all? Or will they yay-or-nay each individual candidate?
Public
Guilds made by the people, for the people!
As the name implies, public guilds are open to all. Any player can join with the click of a button, and guild members have carte blanche to invite whomever they like. The only limitations are membership caps (each guild can only hold so many players) and kick history (if a player is kicked out of the guild, they can't join again unless their name is removed from the ban list).
Protected
Whether they're friends-only chill zones or training grounds for top tier players, these guilds are a bit more exclusive.
Anybody can apply to a protected guild, but only those given the green light by the guild leader or other authorized members (including officers by default) can actually join. You can even apply to up to 20 guilds at a time, so keep looking if your first pick is dragging their feet.
Just know that invites expire after a week, so re-apply if needed. And don't worry if the guild you want to join is full—they'll still receive your application and could well be on the verge of increasing their member capacity, so give it a shot!
Once you're accepted into a protected guild, all of your other pending guild requests will disappear.
Language
When your goal is to gather a bunch of like-minded players under one banner, sharing a common language is a good first step! This setting defaults to whatever language is most prevalent based on the guild leader's server location, but it can be freely edited to whatever works best—provided it's one of our supported languages!
Topic Labels
Much like the guild tag is shorthand for a guild name, topic labels are the tl;dr of each guild's description. They won't be able to quite sum up a guild's purpose, but they can be useful for filtering guilds down to just the ones that meet your needs. Each guild can choose up to three to let players know what their guild is about!
The current labels on offer are:
Party Up
Inclusive
Community
Daily
Casual
Beginner Friendly
Chat
Voice
Ranked Climb
Highly Active
Leaderboards
Elite
Guild Feed
Guildmates with the proper permissions can share certain screens and other updates to the Guild Feed. While everybody within the guild will be able to see the Guild Feed, it may not be visible to players outside of the guild depending on your privacy settings.
Member List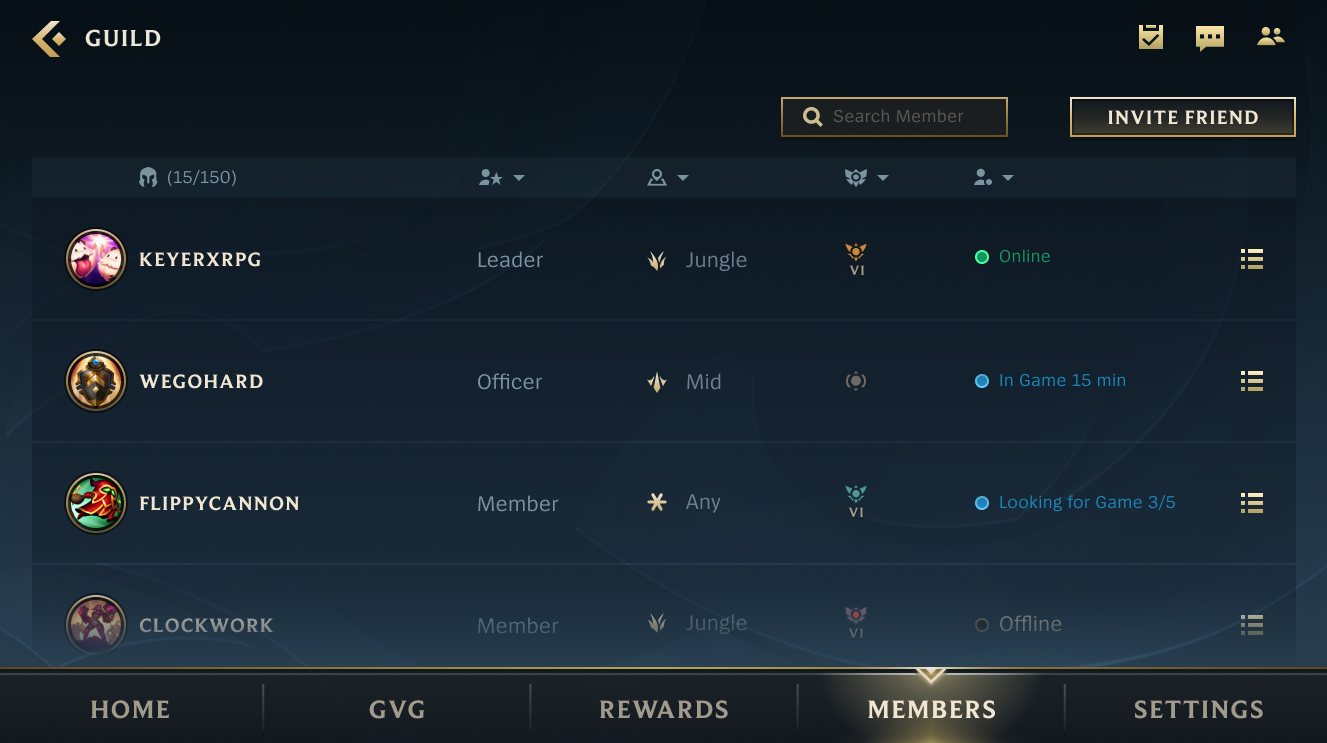 A veritable "Who's who" of each guild! Whether or not this list is available publicly can be adjusted by the leadership of each guild, but guild members will always be able to see who their fellow guildies are along with their roles and preferred positions.
Guild Chat
Guilds are all about community, and the beating heart of each of those communities is guild chat. It's where your fellow guildmates will come to look for a 5th member of their party, talk about the latest patch, or simply hang out. Guild chat also appears as a new channel inside the normal chat in case you want to jump right into it!
Now that you know all the features each guild has to offer, it's time you learn about...
Joining a Guild
Picking the right guild for you is Serious Business™. That's why we've included a few ways to do it.
Join Your Friend's Guild
If you're looking to join your friend's guild, just tap their name on your friend list, jump into their profile, select the guild from there, and either apply or join right away depending on the privacy settings!
Otherwise, you could always use...
Guild Finder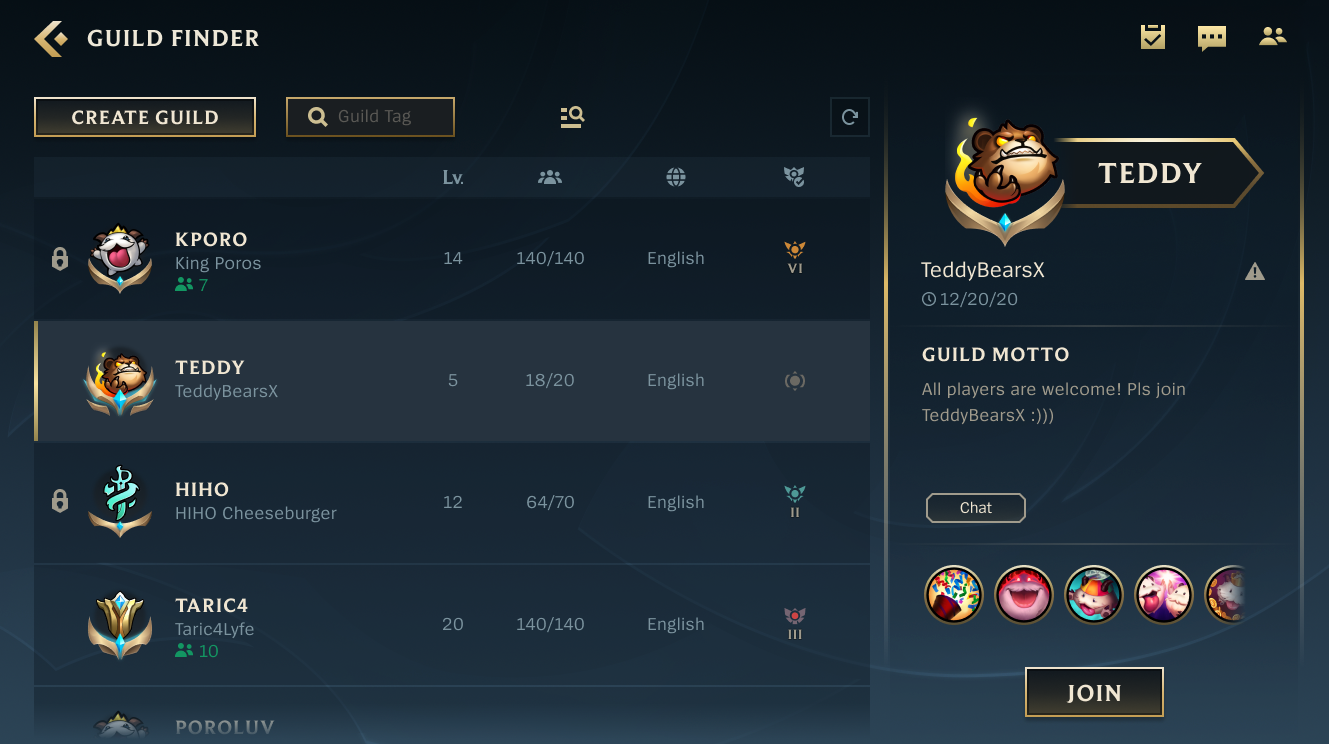 Tucked away in the Guilds menu, Guild Finder will let you peruse lists of guilds based on filters of your choosing.
On the left, you'll find each guild's icon, tag, and name, followed by a few key stats:
Guild level is gradually earned by active members, and thus can be a good indicator of how active or old a guild is.
The number of members currently in a guild / the membership cap. Make sure there's space before you apply!
Whether it's for

voice comms

or just chatting between games, sharing at least one language with your guildmates is vital for communication.

Use guild rank to make sure your desired guild is at your level, whether that means any rank at all or top tier challengers
Still not finding the guild for you? Then perhaps it's time to blaze a path for others like you and create a guild!
Creating a Guild
Whether you just want a place for your friends to hang out or can't quite find the guild for you, making a guild is a great option. Sure, it may be a little more involved, but our guide on guild creation will tell you everything you need to know!
Leveling Your Guild
Now that you've finally found a place to call your home, you're going to have to start leveling up your guild. This is how you'll unlock additional icons, increase your maximum guild roster, and a bunch of other features to boot! Sound tricky? Don't worry—there's a page for that!
Leaving a Guild
Sometimes, a guild just doesn't work out. If you feel the time has come for you to move on, go to your guild's administration page and tap the Leave button. Just remember that if your former guild's privacy settings are set to Protected, you'll have to re-apply to come back.
If you're a Guild Leader leaving your own guild, check out our page on Guild Management to see how the process works and who's next in line for the position.
Reporting a Guild
Find a guild that doesn't seem to live up to the Code of Conduct? Let us know by selecting the

button on the guild home page or next to the guild's name. From there, you'll be directed to give a few more details about where you found the offending content.