Vex is coming to League of Legends: Wild Rift? Pfft. Whatever.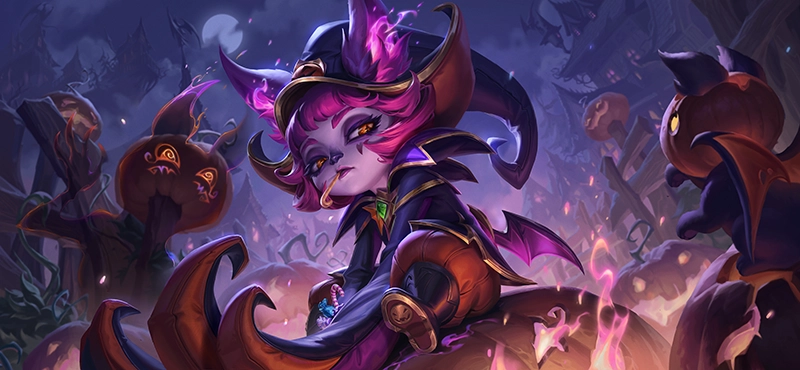 We mean, we guess that's kinda cool. And sure, her Bewitching skin is the perfect ensemble for the changing seasons. But if you're going to get more than an eye roll from this gloomy yordle, you'd better bring your B-game—that's "B" for "Bingo," of course!
Dates
We don't mean to scare you (too much), but you'll only have about two weeks to finish up those bingo boards!
Start - October 27, 2022 // 00:00 UTC
End - November 9, 2022 // 23:59 UTC*
*Dates and times are subject to change. Always check the in-game schedule for the most accurate information.
What is Bewitching Vex's Bingo?
At the start of the event, you'll be given a 4x4 bingo card full of missions. Completing a mission will mark off that mission's square, and scoring a "bingo"—ie, finishing a whole row, column, or diagonal line of 4 consecutive squares—will earn you 50 Blue Motes!
Completing an entire board grants a bigger reward AND unlocks a whole new board for you to clear—provided you've reached that board's release date.
Either way, you're gonna have to tackle those missions first!
Missions
Bewitching Vex's Bingo missions come in seven different flavors, and each group can encompass a huge variety of objectives. You can always tap a mission's square to learn the specifics of your objectives, but the symbols provide a bit of guidance on their own:
| Symbol | Mission Type |
| --- | --- |
| | Engage in combat, whether that means dealing damage, scoring a triple kill, or even healing/shielding your allies! |
| | Destroy/kill key objectives. Rift Herald, dragons, and turrets are among the targets you'll have to take out to check off these squares. |
| | Earn gold! Just accruing piles of coins is enough to complete some of these objectives, while others entail slaying specific enemies for your loot. |
| | Use certain champions or champion classes. These missions typically involve queuing up as a specific champion or class, so you may have to tackle these ones with a bit more purpose. |
| | Achieve certain post-game results! It can be as simple as playing/winning or game, or as challenging as being your game's MVP. Just play your best, and the rewards will follow! |
| | These missions require special, unusual conditions (like a Nemesis Duel) to complete. Check below for each board's unique missions so sure you know what you're aiming for! |
| | These Bewitching missions require the use of Vex or one of her spooky associates in their Bewitching attire. Spook the competition into submission! |
You'll be able to complete most of these objectives in any matchmade gamemode: Ranked, PVP, ARAM, or Co-Op VS AI. The only exception are missions that specifically require you to play a certain game mode.
Finding yourself haunted by a mission you can't seem to complete in any game mode? Then perhaps it's time to work some sorcery of your own with a Bewitching Pumpkin!
Bewitching Pumpkin
This gourdgeous pumpkin has a hidden power: the ability to complete any bingo square!
Just tap the square of the mission you'd like to complete followed by the

button to trade in one of your pumpkins and check that mission off your board. If you want to redeem your pumpkin in a spookier fashion, tap-and-drag the icon (is it…FLOATING?!) onto the mission you'd like to complete. This "magic" may not impress Vex much, but it'll get the job done!
Bewitching Pumpkin Mission
While the event is live, you'll earn 1 point each time you play a match or complete a row, column, or diagonal in a bingo board. Get 4 points in total, and a Bewitching Pumpkin will be added to your stock!
This repeatable Bewitching Pumpkin mission is available for the duration of the event, but don't make plans to convert your account into a pumpkin patch, because you can only store up to 3 Bewitching Pumpkins at a time! Completing the Bewitching Pumpkin mission while you're at the limit won't earn you a dang thing.
Bingo Boards
They might not be as spooky as a ouija board, but they have WAY more prizes!
You can only work on one board at a time and must complete your current board before moving on to the next one. Additionally, each board is only available after a certain time, so don't fret if you fly through one board and have to wait a day or two for the next to become available.
Board 1
PREREQUISITE

None!

RELEASE DATE

October 27 // 00:00 UTC

LINE REWARD

50 Blue Motes each

BOARD REWARD


Tricks 'n' Treats! Icon
See Board 1 Missions
| | | | |
| --- | --- | --- | --- |
| Play a match as Vex | Deal 50,000 damage to enemy champions | Win a match while playing as a Demacian champion | Get a triple kill or greater |
| Get 100 takedowns | Win 2 matches | Win a match with 0 deaths | Win an ARAM match in less than 10 minutes |
| Get an A or S rating | Earn 45,000 gold | Use your ultimate ability 30 times | Get first blood |
| As a team, defeat Baron Nashor 3 times | Place or destroy 25 wards | As a team, destroy 25 turrets | Win a match while playing as a support champion |
Board 2
PREREQUISITE

Complete Board 1

RELEASE DATE

October 29 // 00:00 UTC

LINE REWARD

50 Blue Motes each

BOARD REWARD


Spellbound Emote
See Board 2 Missions
| | | | |
| --- | --- | --- | --- |
| Win 5 ARAM matches | Win a match using a duo lane champion | As a team, kill 1,500 minions | As a team, get 200 kills |
| Win a Normal PVP or Ranked match in less than 13 minutes | Get a 5+ kill streak | Place or destroy 30 wards | As a team, earn 500,000 gold |
| Earn 15 medals | Participate in destroying 15 turrets | Win a match with 5 unique takedowns | Get MVP at the end of a match |
| As a team, kill 10 dragons | Play a game using Bewitching Morgana skin | Deal 60,000 damage to enemy champions | Win a match while using a Noxian champion |
Board 3
PREREQUISITE

Complete Board 2

RELEASE DATE

October 31 // 00:00 UTC

LINE REWARD

50 Blue Motes each

BOARD REWARD

800 Blue Motes
See Board 3 Missions
| | | | |
| --- | --- | --- | --- |
| Win a match while playing a solo lane champion | As a team, get first blood 5 times | Win a match with a Bilgewater champion | As a team, defeat 15 epic monsters |
| Heal or shield allied champions for 20,000 points of damage | Get an A or S rating 3 times | As a team, defeat the Rift Scuttler 20 times | Win 5 matches |
| Play a match in a full premade party | Place or destroy 35 wards | Win a match with a Yordle champion | Deal 75,000 damage to enemy champions |
| Win a match using the Bewitching Miss Fortune skin | Kill 200 minions | Get 50 kills | As a team, get 5 aces |
Board 4
PREREQUISITE

Complete Board 3

RELEASE DATE

November 2 // 00:00 UTC

LINE REWARD

50 Blue Motes each

BOARD REWARD

Vex Pose / Bewitching Skin Pose
See Board 4 Missions
| | | | |
| --- | --- | --- | --- |
| Win a match using an Ionian champion | Settle a Nemesis duel | Use your ultimate ability 35 times | Get SVP or MVP 3 times |
| Get 125 takedowns | Place or destroy 40 wards | As a team, destroy the first turret 5 times | As a team, defeat Baron Nashor 4 times |
| Get a triple kill or greater | Play a match using the Bewitching Vex skin | Get 75,000 gold | Win a match using a jungle champion |
| Deal 75,000 magic damage to enemy champions | Win a match using a mid lane champion | Win 7 matches | Earn 20 medals |