Much like a sweet little baby drake, a guild needs care and attention if it's ever going to grow up big and strong—and that's where you come in! Just by playing together, you and your fellow guildmates can take a newbie guild and transform it into a world-renowned MEGA GUILD!
Energy Conversion
Each day, your guild receives 1,000 guild energy. Pretty generous of us, right? Well don't get too excited, because you'll still need to put in some elbow grease. Think of that daily energy as a raw material that has to be processed before it can be utilized—in other words, it ain't worth a thing until it's converted into Guild Points.

Energy is converted into GP any time two or more guildmates play together, producing 50 GP for a win and 25 for a loss for each guildmate playing. Unconverted energy carries over to the next day, but there's only enough room in storage to hold 3,000, so you'd better get playing if you don't want to miss out!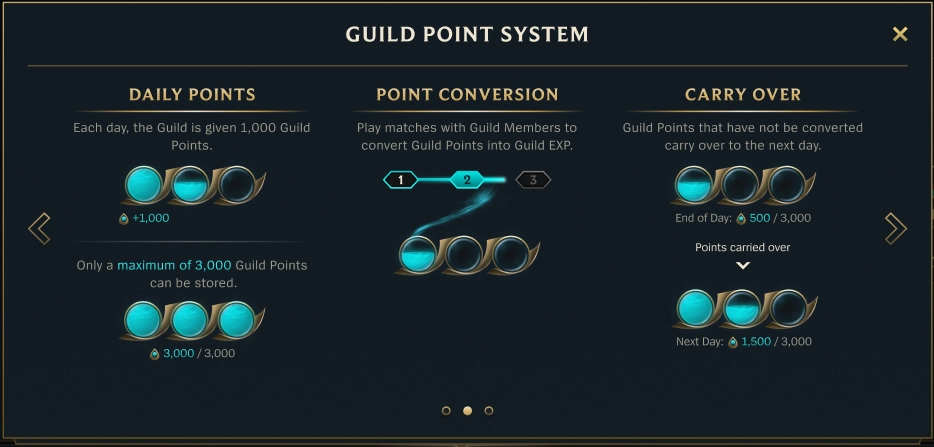 Guild Levels
So what are Guild Points good for? If you've played Wild Rift at all, it's a familiar concept: earning GP steadily increases the guild's overall level, unlocking goodies at every new milestone. Check out the table below to see what's in store!
The best way for a guild to reach max level quickly is to fill up with active players—and the higher the level, the more players a guild can hold. The max player count starts at 40, but with hard work and determination, a guild can eventually make room for 140!
As they level up, guilds also unlock buffs that increase both the Guild Points earned by the group and the Trophy Points earned by individual guildmates. That means the more points you earn, the easier it is to earn points!

| | | |
| --- | --- | --- |
| Level | Reward | GP |
| 1 | Guild Plate Level 1 | 0 |
| 2 | Guild Icon Bundle (3 Icons) | 4,000 |
| 3 | Max Player Count Increase (20) | 8,000 |
| 4 | Guild Icon Bundle (3 Icons) | 12,000 |
| 5 | Guild Plate Augment Level 2 | 14,000 |
| 6 | Max Weekly Guild XP/Blue Motes/ Trophy Points Increase (10) | 16,000 |
| 7 | Guild Icon Bundle (3 Icons) | 22,000 |
| 8 | Max Player Count Increase (20) | 25,000 |
| 9 | Guild Icon Bundle (3 Icons) | 34,000 |
| 10 | Guild Plate Augment Level 3 | 40,000 |
| 11 | Guild Icon Bundle (3 Icons) | 45,000 |
| 12 | Max Weekly Guild XP/Blue Motes/ Trophy Points Increase (10) | 50,000 |
| 13 | Max Player Count Increase (20) | 65,000 |
| 14 | Guild Icon Bundle (3 Icons) | 80,000 |
| 15 | Guild Plate Augment Level 4 | 90,000 |
| 16 | Max Player Count Increase (20) | 100,000 |
| 17 | Max Weekly Guild XP/Blue Motes/ Trophy Points Increase (10) | 120,000 |
| 18 | Max Player Count Increase (20) | 150,000 |
| 19 | Max Weekly Guild XP/Blue Motes/ Trophy Points Increase (20) | 200,000 |
| 20 | Guild Plate Augment Level 5 | 250,000 |